What a ride it has been over the month of November!
We had a lot of fun, and got to meet so many wonderful people throughout the campaign.  Though we missed a lot of sleep, it was all well worth it.  We are not only proud of the game we are building for you, but also proud of the community we built throughout the campaign.
You all are awesome, and we never could have done it without you.
The Campaign:
Many of you followed us from the very beginning, during the Indiegogo campaign.  We had almost 300 founding backers, which allowed us to create all the wonderful hand-drawn portraits of the player characters and NPCs, as well as a "hardcore" difficulty mode.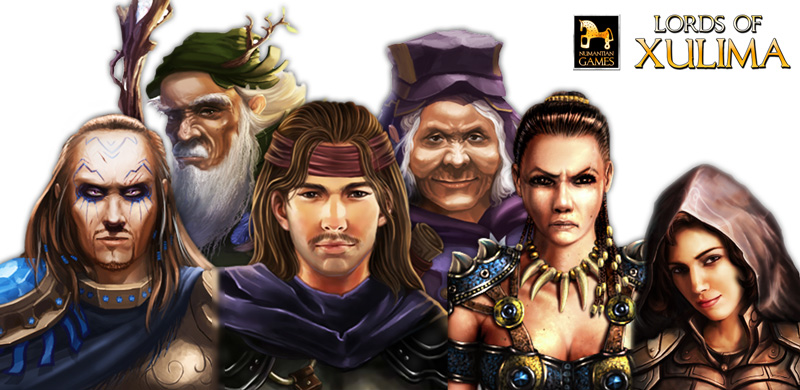 Fast forward to the Kickstarter campaign, and we ended at $35,657, with 1,313 backers. Many stretch goals were unlocked, including an exclusive soundtrack, new regions and subplots. But the end of this Kickstarter only marks the beginning of our adventure…
Forums
We're working on building forums so that discussions around Lords of Xulima can carry on in a friendly environment.  Your feedback has always been important to us– do you remember voting on Gaulen's facial hair in one of our updates? Each choice received many votes but in the end a rough, healthy beard was the most popular option.
When the forums are up, please feel free to bring a friend along to join all of us.  We'd love to meet more of you, and each and every single one of your comments can help us improve our game and much more.
Also, many of you opted for the exclusive Beta access; we plan to have forum sections dedicated to that as well.
Add-ons & PayPal Pledges
We still have some limited Add-ons left for you to pick up such as name an NPC or your name on an in-game statue in the Hall of Heroes.
If you missed out on pledging or know someone who may be interested in pre-ordering Lords of Xulima, take a look at our Pre-Order Page.
The Journey Continues…
We will be working very hard on Lords of Xulima and the Beta, but that doesn't mean we're going silent.  Another way you can follow us and stay up-to-date with the latest News is through subscription on our website (found on the left), Twitter, Facebook, Indiedb, YouTube or Steam.  Or, feel free to send an email now and then to ask us how we are doing.
We promise to keep you as up to date as often as we can on the development–without giving away any spoilers, of course!
Again–thank you all for your continued support.  It is a dream of ours to see Lords of Xulima become a reality.  It means the world to us to have you there, as we make that come true.
Again–Thank You!!! 
Can't wait to chat with you all in the forums soon. We'll keep you posted!
Posted by Julie
On December 8, 2013
3 Comments